Discover more from Data Operations
Data Operations helps product leaders approach integration, automation, and product challenges with an operational mindset. Each weekly issue features a short long-form essay, with one thing that seems like a toy but might be important in the future.
"Everything starts out looking like a toy" (No. 3)
A newsletter of small observations at the intersection of data and systems
Welcome! I am using this letter to share a few things. It's Saturday Night 🎶. This is edition No. 3, coming at you on July 18, 2020.
This Week's Idea
The Economist publishes a Big Mac Index measuring Purchasing Power Parity, or the relative cost to buying a common commodity in multiple places. Even in a company like McDonald's that attempts to have a consistent experience worldwide has different input costs, labor costs, and exchange rates in each country (via Chartr) The takeaway? Familiar global items are a way to compare basic economic health.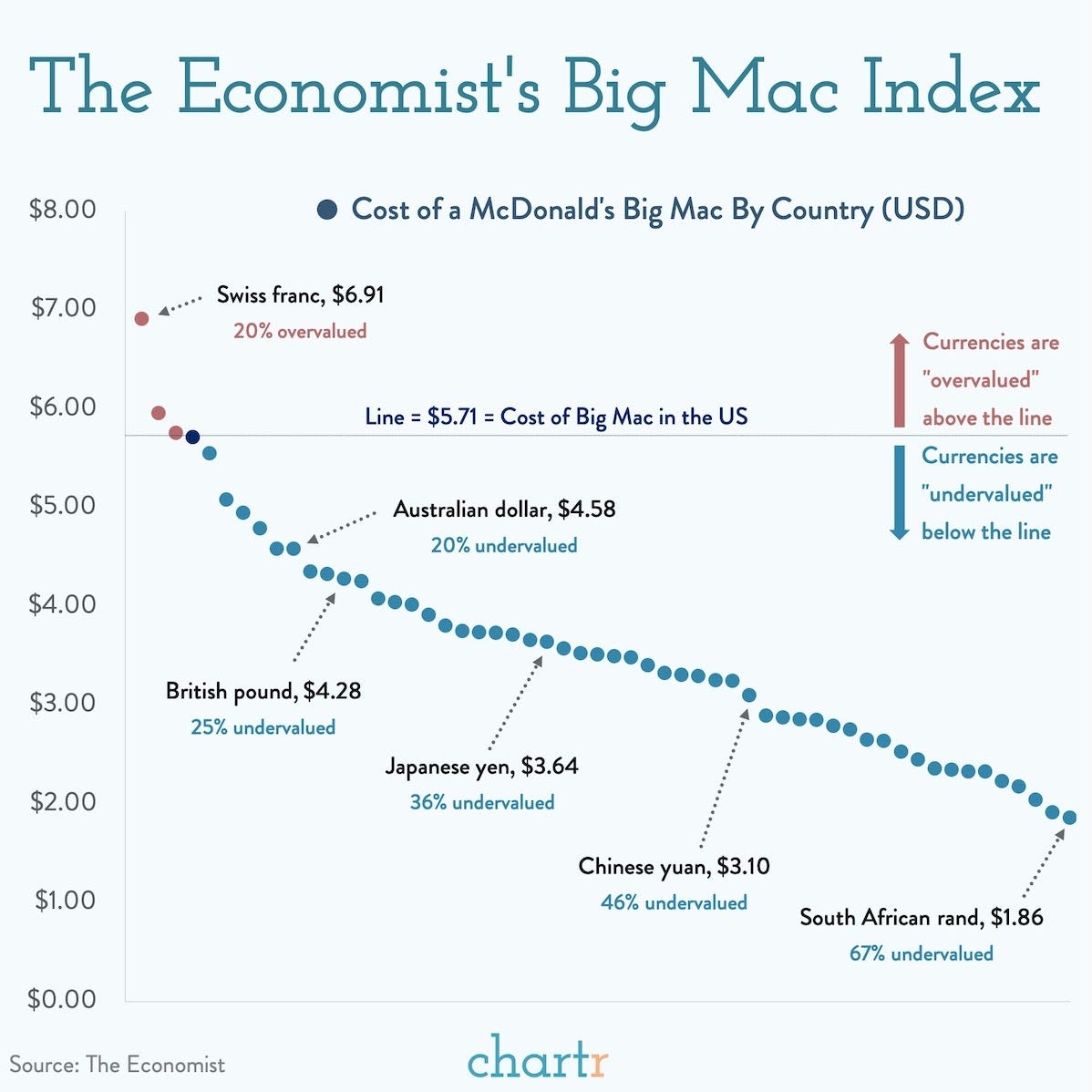 Links to Read and Share
These are links that caught my eye.
1/ The future is right in front of us. @BenGeskin is imagining what it will look like to use computers when the interface is virtual, perhaps driven by a pair of Apple Glasses. Will data workspaces move to 3d (x,y,z) or perhaps 4d (fly through a model over time)? The possibilities are exciting.
2/ Evaluate your metrics closely. With the release of a GoogleBot version that can do more than just hit a link, it becomes more important than ever before to tie your metrics to actual actions *by customers and prospects* that you can quantify. Consider writing metrics as input (click) and output (result) to see how many bots fail in your funnel.
3/ Urgent is not necessarily important. The next time you get an urgent request, do you know what to do? It's hard to avoid leaping into action when the request seems important. Using a heuristic to measure the task (does it block others? does it have high expected benefit? is my boss asking?) can help.
What to do next
Hit reply and let me know if you've got links to share, data stories, or want to say hello.
You're at the end. Thanks for reading! I'm grateful you found this.
If you found this useful, consider sharing with a friend.
---
Want longer-form ideas? Check out on Data Operations or other writings at gregmeyer.com.
The next big thing always starts out being dismissed as a "toy." - Chris Dixon