Discover more from Data Operations
Data Operations helps product leaders approach integration, automation, and product challenges with an operational mindset. Each weekly issue features a short long-form essay, with one thing that seems like a toy but might be important in the future.
"Everything starts out looking like a toy" (No. 4)
A newsletter of small observations at the intersection of data and systems
Welcome! I am using this letter to share a few things. If you need a playlist of only "Take On Me" by A-ha, look here. This is edition No. 4, coming at you on July 25, 2020.
This Week's Idea
Do you believe that "fastest to market" or "sustainable moat" builds a winning company over time? Packy McCormack compares Zoom and Slack as examples of companies that grow exponentially vs companies that are very hard to replace. It's easier to have a burst of growth than sustained improvement. The takeaway? Expansion revenue from the existing customer base is the fastest way for a company to turn linear growth into geometric or exponential growth. Here's a visual from Price Intelligently: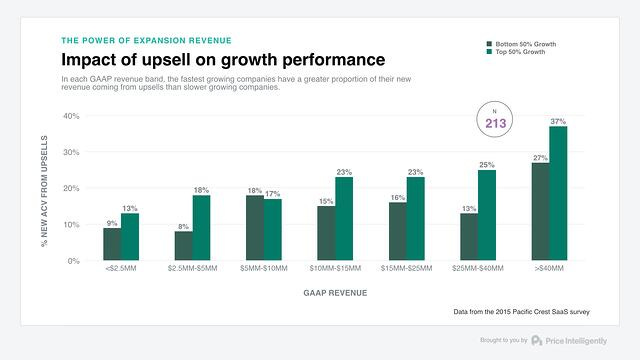 Links to Read and Share
These are links that caught my eye.
1/ Show series data to give a sense of motion - Sylvain Giuliani writes about using existing data to create Sparklines in Salesforce. This is great because it shows change over time and visualizes it in the place where people do their work.
2/ Hindsight is 20/20 - Did you know that Dixie Cups were the breakout consumer hit of the Pandemic … of 1919? When we view innovation backwards, we don't see the sudden change. What iconic direct-to-consumer brands will emerge from 2020? My money's on a brand of designer face masks.
3/ QB1 money is now officially insane - Is Patrick Mahomes "worth the money?"
it's hard to quantify at this stage of his career. If he keeps the Chiefs competitive for a Super Bowl for the next 5-10 years, $50m/year might look like a bargain. 👀
What to do next
Hit reply and let me know if you've got links to share, data stories, or want to say hello.
You're at the end. Thanks for reading! I'm grateful you found this.
If you found this useful, consider sharing with a friend.
Want longer-form ideas? Check out on Data Operations or other writings at gregmeyer.com.
The next big thing always starts out being dismissed as a "toy." - Chris Dixon